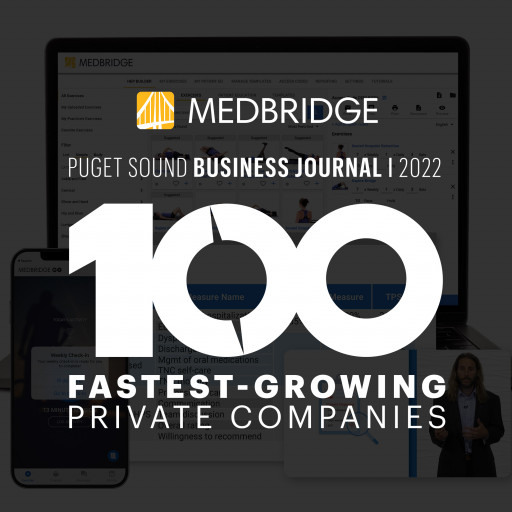 SEATTLE – November 15, 2022 – (Newswire.com)

MedBridge, the industry-leading provider of digital health and professional development solutions, has been named one of the 100 fastest growing companies in Washington State by the Puget Sound Business Journal (PSBJ) for the third year in a row.
"At MedBridge, our mission is to provide healthcare organizations with the digital health tools they need to empower their clinicians and elevate healthcare," said Andrew Mickus, Chief Content Officer at MedBridge. "We're honored to be recognized, and are excited to continue our search for innovative new ways to integrate medical expertise with technology to improve patient engagement and care." 
MedBridge's strong growth has been bolstered by several innovations this year, including the launches of the Skills and Competency Manager, Remote Therapeutic Monitoring Solution, and Hospice Solution. Partnering with over 2,500 healthcare organizations across the continuum of care, MedBridge combines evidence-based staff and patient education, digital engagement, and digital health tools to help organizations empower clinicians and their patients by creating clinical pathways that better engage patients, improve operational efficiency, reduce readmissions, and lower cost per episode.
PSBJ shares these rankings to highlight the businesses that are fueling Washington State's economic engine. The companies are measured by their revenue growth over the past three years and come from a diverse group of industries that include healthcare, biotech, banking, real estate, and technology.
Over the past year, MedBridge has received a number of additional accolades and awards, including a 2022 Future Leader in Home Health and Home Care Award, a sixth straight Inc. 5000 Fastest-Growing Private Companies  Award, and a 2022 MedTech Breakthrough Award, in addition to being named in the Puget Sound Business Journal Middle Market Fast 50.
Contact Information:
Savannah Isbey
Manager of Content & Creative
savannah.isbey@medbridgeed.com
Press Release Service
by
Newswire.com
Original Source:

MedBridge Named to Puget Sound Business Journal's 100 Fastest Growing Private Company List for 3rd Straight Year