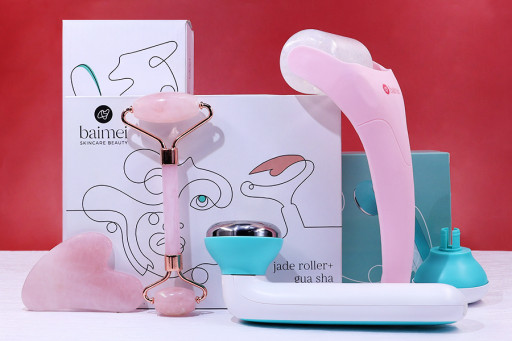 The skincare product brand has become a viral sensation on Instagram and TikTok.

HOUSTON, January 31, 2023 (Newswire.com)
–
BAIMEI, a rising skincare brand and manufacturer, has officially released its Face Roller & Gua Sha sets for 3 years. The up-and-coming player in the skincare industry has already achieved substantial success on social media, with thousands of views and comments across Instagram and TikTok. Committed to providing at-home, user-friendly skincare goods for daily use, BAIMEI's latest releases make perfect gifts for Valentine's Day, Mother's Day, or any other special occasion.
Gua Sha is a traditional Chinese practice involving a press-stroke treatment of the skin. According to a study by the State Key Laboratory of Pharmaceutical Biotechnology, School of Life Sciences, Nanjing University, the practice has been found to up-regulate the innate and adaptive immune functions of the skin and boost the response against intradermal antigens.
Aside from being great gift ideas, BAIMEI's Face Roller and Gua Sha sets are designed to reduce facial puffiness and muscle tension. The trending beauty brand specializes in providing customers with the best self-care essentials to pamper and relax during peaceful Gua Sha sessions.
"Whether you are buying a last-minute Valentine's Day Gift or just want to utilize the best tools for facial relaxation, our products will provide you with a calming experience that can't be beaten by any other set on the market today," said Lucy, Marketing Manager at BAIMEI.
The brand also plans to launch a new line of face coolers in the coming months.
To check out BAIMEI's growing product line and learn more about their Face Roller and Gua Sha sets, visit their official Amazon store at https://www.amazon.com/baimei.
About BAIMEI
BAIMEI is committed to providing at-home user-friendly skincare goods that are perfect for personal use and gifts for daily life that empower people to feel beautiful. Their story begins with a single piece of jade, rooted in Benevolence, Morality, and Truth. Baimei takes a modern approach to self-care that's deep-rooted in traditional techniques to help people find the right tools that can bring comfort and peace into life. Find BAIMEI on Amazon, see more BAIMEI on Instagram @baimeiofficial and TikTok @baimei.beauty.
Contact Information:
BAIMEI Customer Service
Original Source:

BAIMEI Releases New Face Coolers: Their Popular Face Roller Gua Sha Sets Come in Gifting-Ready Boxes, Making for Perfect Holiday Gifts