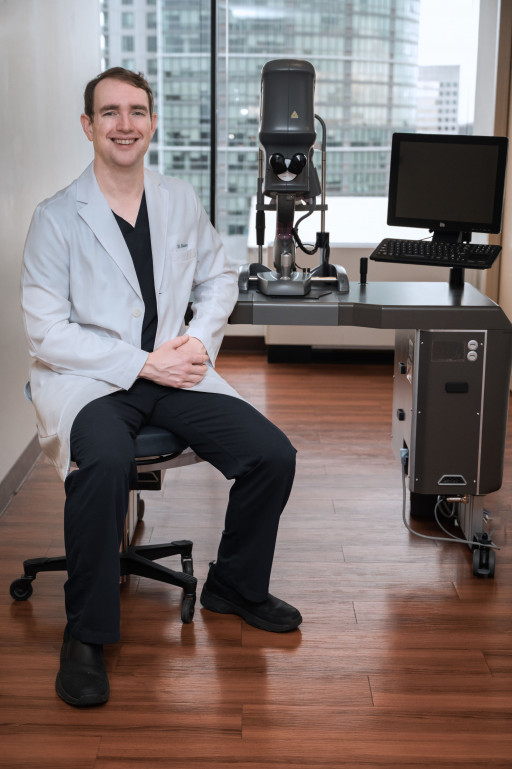 WASHINGTON – January 11, 2023 – (Newswire.com)

Cataracts are a leading cause of blindness among older adults in the United States, with more than half of all Americans having cataracts by age 80. Over the last few decades, remarkable progress has been made in improving cataract surgery and patient outcomes. Some of these innovations include laser-assisted cataract removal and premium lens implants, which may allow patients to see most distances, even up close, with no dependence on glasses.
"Visionary Eye Doctors is fulfilling its promise of providing advanced technology with a loving touch with the first customizable lens after cataract surgery."
Currently, surgeons take measurements of the patient's eye and, based on those measurements, make their best-educated decision as to which lens power would give the patient the best visual outcome. While effective, a patient would often still require glasses after surgery.
The Light-Adjustable Lens (LAL) manufactured by RxSight™ is the first and only cataract lens implant that can be customized after cataract surgery. This customization helps deliver superior visual outcomes that non-adjustable IOLs simply cannot match. This technology can give patients the best correct vision for distance in their dominant eye. If they wish independence from reading glasses, the surgeon can adjust their non-dominant eye for reading vision.
Visionary Eye Doctors' founder and owner J. Alberto Martinez, MD, has always promised to provide state-of-the-art technology with a loving touch. Keeping its promise to the community, VED now provides the latest customizable lens for cataract surgery. 
About Dr. Andrew Hammer, MD                                                    
Dr. Andrew Hammer is a Board-Certified Ophthalmologist. Before joining VED in December 2017, Dr. Hammer was with Baltimore Washington Eye Center. Dr. Hammer earned his medical degree from the University of Maryland School of Medicine, followed by an internship at Eisenhower Army Medical Center in Augusta, Georgia. He then completed his training with a residency in Ophthalmology at the Walter Reed Army Medical Center, which serves the greater Washington, D.C., metro area. Dr. Hammer served as the Chief of Ophthalmology at Ireland Community Hospital in Fort Knox, Kentucky. 
Dr. Hammer was voted a Top Doctor by Washingtonian magazine in 2018. Additionally, Dr. Hammer has been selected as a Top Doctor by Castle Connolly Medical Ltd. Castle Connolly identifies top doctors, both nationally and regionally, based on an extensive nominations process open to all licensed physicians in America. The Castle Connolly physician-led research team reviews and screens all nominated physicians before selecting those regarded as the most outstanding healthcare providers to be Top Doctors. The loyalty of his patients demonstrates his commitment and his passion for his work.
Board-Certified: American Academy of Ophthalmology
Residency: Walter Reed Army Medical Center, Washington, D.C.
Internship: Eisenhower Army Medical Center, Augusta, GA
Medical School: University of Maryland School of Medicine, Baltimore, MD
B.S.: Electrical Engineering, Cum Laude, Cornell University, Ithaca, NY 
Contact Information:
Katia Carpio
Marketing Director
+12404639026
Press Release Service
by
Newswire.com
Original Source:

Andrew Hammer, MD, and Visionary Eye Doctors is the Washington, DC, Area's First and Only Practice to Offer the Light-Adjustable Lens (LAL) to Cataract Patients